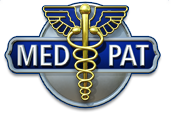 D5700 Series
  - Deluxe Euro Style Full Duplex Speaker Console Telephone. Improved! Extra Large Faceplate Area! Available in Beige and Black
The D5700 is Med-Pat's most feature-rich speakerphone option for hospitality applications. Like all Med-Pat products, the D5700's Heavy Base provides longevity and durability within a ruggedized speakerphone design. The Heavy Base design helps minimize breakage as compared with lighter phones that can more easily be dragged from desks and nightstands resulting in breakage and more frequent replacement.
The D5700 comes with a large faceplate for hotel information and telephone dialing instructions. Free customized faceplates are provided with a minimum order. Faceplates can typically be completed and shipped in less than 24 hours after design approval.
The D5700 meets all hospitality room telephone requirements for most limited service, full service, and higher-end hotel brands and exceeds ADA requirements for volume boost for hearing impaired guests. In addition to a full-duplex speakerphone, the D5700 is available with optional programmable service/speed-dial buttons. The D5705 provides five service buttons, and ten programmable service buttons are available on the model D5710 for added convenience and ease of use for guests.
The D5700 product family is the best choice for full-featured, reliable room telephone solutions when a more sophisticated, upscale design and feature set is desired.
Key Features
Multiple configurations:


D5700

- Standard


D5705

- 5 Programmable Service Keys


D5710

- 10 Programmable Service Keys
Patented Volume Plus Button designed with features for the hearing impaired aiding 70% of elderly patients with high-frequency hearing loss (the Boost Button increases volume range to 27.5db)
Built in CLEARING AID® circuitry automatically adjusts frequency response for improved clarity. This is an aid to 70% of Patients with high-frequency hearing loss.
FCC / ETL / UL / CE approved
Full Range Volume Control

(maximum amplification as allowed by law)

Desk/Wall Mountable (mount sold separately)

Non-volatile Memory (no batteries required)
Extra Large Customizable Faceplate
Hearing Aid Compatible
7' Handset Cord / 20' Line Cord

(Fully Modular)

Dual Tone Deep Pitch IC Ringer with 3 levels of control
Easy to wipe down, sleek profile, Lite Touch Keypad with No Wear / Non Rub Off keys
Extra Large Super Bright Ring/Message Waiting Indicator
Flash Button
Headset Jack for Hands Free Use
High Luster, Euro Style, Rugged ABS cabinet with High Durability Components
Lighted Hold Button
Outstanding audio amplification quality
Rotary Handset Volume Control plus additional Volume Plus Button on Base
Compatible With AC And DC Neon And Some LED Systems
Braille Locator On #5 Key
Constructed of High Impact ABS Plastic
Built in speakerphone with automatic differential balancing; >80 dB receive to transmit.
Easy Access Dataport
Extra Heavy, Non-Slip Base provides a solid look and feel
Case Pack Qty: 10